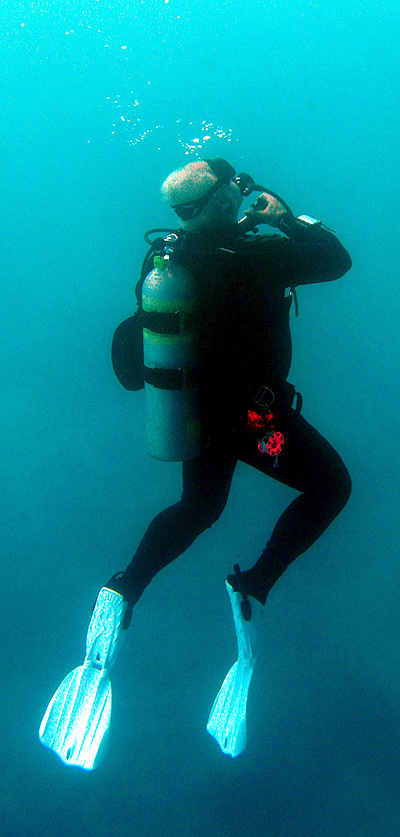 Since 1988, Joel has completed over 6,400 dives. More than  3,000 have been on shipwrecks all over the world. He has extensive experience with un-teathered mixed-gas diving in the open ocean.
Diving Training  — Development of diver certification training curricula; course standards, texts, support materials, etc. for instructors, assistant instructors, divemasters, and divers of all levels including nitrox and technical diving applications. Evaluation and comparisons of various agency certification programs on all levels. Duties and responsibility of instructors, assistant instructors and divemasters to students in training and diving tours. Industry standards and protocols for diver conduct.
Diving Operations (Recreational, Scientific, Commercial, Military, Filmmaking Projects) – Specific protocols for dive vessel operation and safety; crew and dive staff training; emergency response and rescue practices; field medical protocols; tracking of divers through crew observation and log keeping; search & rescue; resort diving including shore and pool activities; contingency planning and responses; compliance with diving-specific vessel regulations for crew and passengers; regional standards of practice and operation; conduct of training activities from vessels or shore based facilities.
Certifications
Scuba Diving International (SDI) # 0125
Technical Diving International (TDI) # 0125
Advanced Trimix Instructor Trainer
Advanced Wreck Diver Instructor Trainer
Extended Range Diver Instructor Trainer
Decompression Procedures Instructor Trainer
Advanced Nitrox Diver Instructor Trainer
Nitrox Diver Instructor Trainer
Advanced Mixed Gas Blender Instructor Trainer
Nitrox Gas Blender Instructor Trainer
Scuba Instructor Trainer
Dive Master Instructor Trainer
Assistant Instructor Trainer
Rescue Diver Instructor Trainer
Surface Supplied and Full Face Mask Trainer
Visual Cylinder Inspection Instructor Trainer

Air Diluent Rebreather – Dive Master
Mixed Gas Diluent Rebreather – Dive Master
Technical Diver Master for all levels
Professional Association of Diving Instructors (PADI) # 41733
Master Scuba Diver Trainer
Dive Master
Assistant Instructor
Rescue Diver
Wreck Diver
Limited Visibility Diving
Night Diver
Nitrox Diver
National Association of Cave Divers

Cavern Diver
Full Cave Diver
Mixed Gas Cave Diver